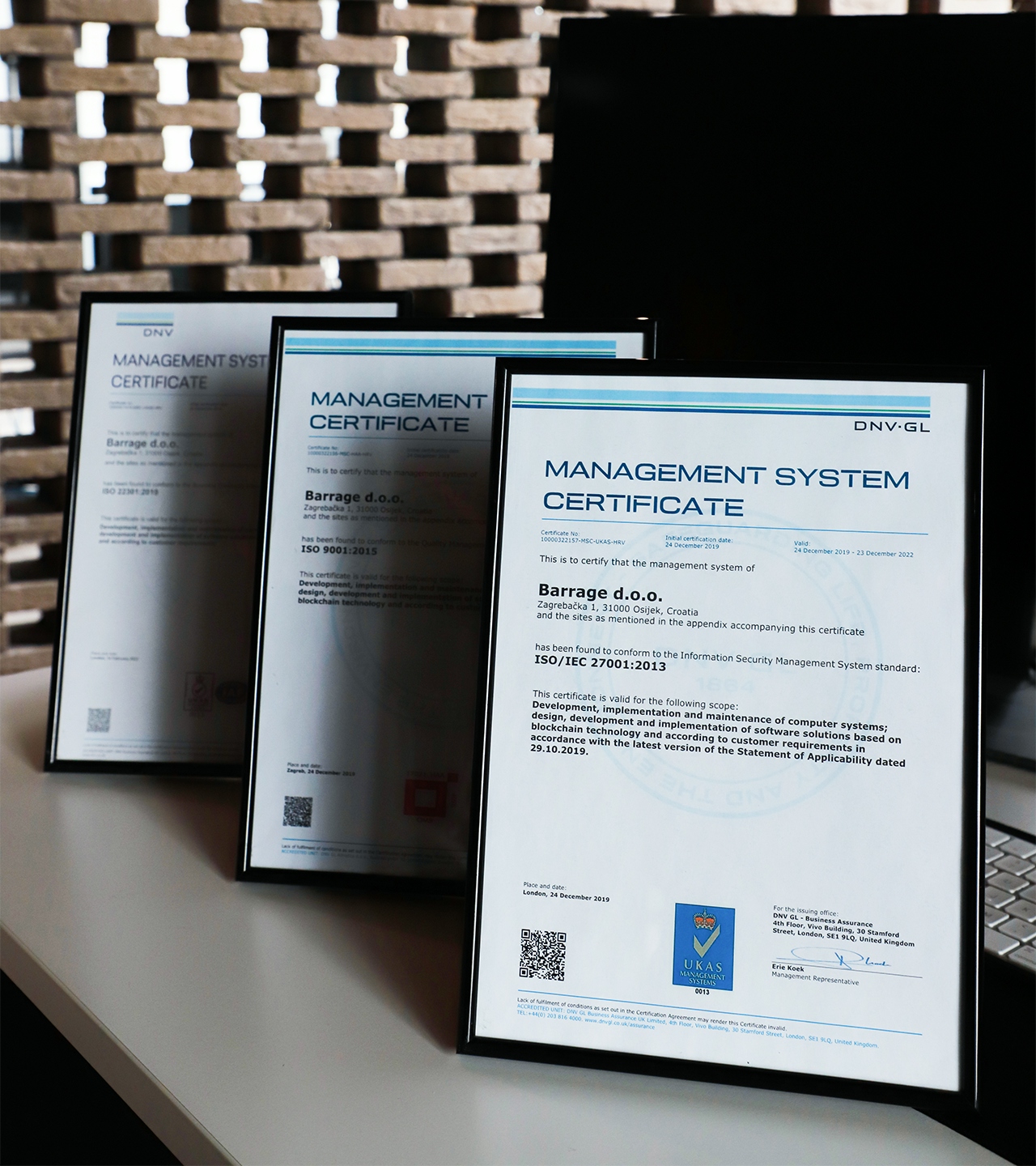 Why is ISO certification important for software companies?
ISO certification is the bedrock of any business collaboration, especially an international one, as it represents a validation that the quality of your product or service is up to par. 
In today's global economy, organizations want to be renowned for adhering to quality assurance and production standards. Consumers, stakeholders, and other business partners gain credibility and confidence when an organization is certified by the International Organization for Standardization (ISO). ISO certification ensures that the firm complies with international business standards, and with the unrelenting growth in the software development industry, this is especially important for companies within this industry. 
What is ISO?
ISO is a non-governmental organization that establishes quality and efficiency standards for goods, services, and systems. This organization's standards are beneficial to international trade since they establish severe requirements that companies must follow. Their ultimate objective is to promote global industrial wellbeing by raising overall levels of safety and security.
Building a well-rounded standard requires time and effort. Experts in a given field get together to discuss strategies to improve the situation. After these conversations, the group comes to an agreement through a voting procedure. On average, the entire procedure takes three years. Four following events must occur in order for the organization to set standards:

a market need
a meeting of professionals from around the world
a multi-stakeholder approach to development
all parties coming to an agreement
ISO certification verifies that a management system, manufacturing process, service, or documentation method meets all of the standards and quality assurance requirements.
Many industries have ISO certificates, ranging from energy management and social responsibility to medical devices and energy management and they are in place to ensure consistency. Each certification has its own set of standards and requirements, as well as a number classification.
The most common types of ISO certifications
Here are some of the most popular ISO standards across all industries:
ISO 9000
The ISO 9000 standard is one of the most widely used certifications. This collection of quality management systems (QMS) is a set of guidelines that assist businesses to satisfy the demands of both consumers and stakeholders. It fulfills the ISO's most fundamental objectives.
ISO 9001
Companies use ISO 9001 to ensure that their products meet defined specifications. The term "product" can also apply to services, materials, hardware, and software in this scenario. This accreditation serves as verification for a company's goods rather than the company itself.
ISO/IEC 27001
The ISO/IEC 27001 standard provides the standards for creating, implementing, maintaining, and continuously improving an information security management system inside an organization. It also contains rules for assessing and treating information security threats that are specific to the organization's needs. The ISO/IEC 27001 standards are broad and designed to apply to all businesses, regardless of the size, or industry.
ISO 22301
ISO 22301 standard has to to with security and resilience. As published by International Organization for Standardization, its requirements cover arranging, laying out, carrying out, working, observing, exploring, keeping up with, and consistently further developing a recorded administration framework to safeguard against, decrease the probability of, plan for, answer, and recuperate from problematic incidents when they happen.
ISO 14001
The ISO 1400 is a standard that addresses a company's environmental effect. Through their general operations, entities holding this accreditation manage their influence on both flora and animals. Because of consumer concerns about corporate environmental effects, this form of certification is becoming more common.
Other types
As the necessity for standardization rises, so do the situations in which it should be used. The ISO's scope has expanded to encompass a variety of sectors in which third parties certify businesses. 
Why are ISO certifications important?
As mentioned, ISO certifications are acquired from third parties and serve as confirmation that a corporation follows the International Organization for Standardization's requirements. They provide clients and other stakeholders the assurance that a firm operates effectively and to a high quality. ISO certifications can demonstrate a company's dedication to key business goals including customer satisfaction and production. Some government and corporate sector organizations insist that companies with whom they do business need to have ISO certifications.
Here are some examples of why ISO certifications are important:
Adhering to standards necessitates a precise definition, documentation, and monitoring of your business operations. You should also define goals for your company and track your success. This is essential for creating a productive business model which will be able to parry the fierce competition in the software development domain. 
Certification can boost your revenue. Generally peaking, it's said that three out of five firms that implemented ISO saw an increase in income. The revenue rise was much bigger for certified businesses than for non-accredited businesses.
Companies that make a consistent effort to enhance operations — not just before the next recertification audit — get the best outcomes.
ISO and other standards provide you with access to internationally recognized best practices for your whole organization. Quality management, environmental performance, information security, food safety, risk management, and health and safety all have standards.
Keep customers and clients happy
Standards improve complaint handling, quality control, and client satisfaction monitoring, all of which assist to keep customers pleased. One of the main benefits of certificates is the decrease of client complaints.
Provide access to new markets
Standards provide your company with access to new markets. You could be qualified for government contracts that require you to meet particular requirements, for example. Perhaps you'll be able to collaborate with a larger company on some megaproject. Many international standards are recognized and can help you gain trust with clients in foreign marketplaces.
Encourage team commitment
Meeting ISO standards can aid in the development of more engaged and productive staff. Certified organizations have greater work satisfaction, turnover, absenteeism, employee engagement, and manager-employee communication.
The certification process brings together managers and staff to work toward similar goals while following a set of procedures.
It is applicable to all types of business
Certification is beneficial to businesses of all sizes, even those with only a few employees. Smaller companies may seek certification in order to implement best practices in their operations and all of these steps can help them grow in the long-term.
Another significant benefit of ISO is that process integration is enhanced. This indicates that issues may be solved with the least amount of money and the most efficiency. Cutting resource expenditures is always a good approach to save money, and it will free up your team's time to focus on other areas that need attention.
The ISO certificate is a credential that should be proudly displayed. It improves the image of your organization. The boost in sales that resulted has previously been noted. However, your reputation might help you recruit more highly trained people and boost your chances of forming partnerships or even being acquired. ISO certification and the prestige it confers may help your company in a variety of ways, both directly and indirectly.
In any professional business, it's important to ensure that the required standards of your organization are properly being met.  Expanded consistency implies your clients are getting similar help or same items each time they are making business with you.
Encourage business collaboration
The fact that ISO is widely recognized throughout the world makes it easier to do collaborative commerce, conduct research, and develop innovative products and services. Standardization enables international collaboration with the assurance that a product or service is compatible and invariable.
Improve efficiency, reduce waste and save money
An ISO management system isn't flawless, but a well-implemented system may help your organization get close to it. As your processes improve, they become more reliable, and you'll have the option to meet your targets more regularly, providing quantifiable results. You'll also eliminate process waste in your activities.
Process waste is the outcome of poor quality and inefficiency, and in essence, it represents funds that might have been spent elsewhere. Variation and inconsistent procedures lead to inefficiency. You will spend less and save more money if you reduce those elements and enhance consistency.
How to get ISO certified
The majority of enterprises that seek ISO certificates are those that manufacture in large quantities and distribute internationally. They deal with trade agreements and rules from a range of nations, making global standard certification practically mandatory. As a result, the ISO 9001 certification is one of the most sought-after, but there are some essentials that need to be met prior to getting certified. The methods below outline how an organization may obtain an ISO 9001 certification.
1. Set up a quality-control system.
The first step toward ISO certification is to create a Quality Management System (QMS) that is unique to your company. Determine where to enhance fundamental business processes by identifying, and analyzing them. You need to work with all levels of management and teams to record their procedures. Then, based on the ISO's criteria, create a QMS that is most effective. Make a paper detailing the new procedure and send it to everyone in the company.
2. Implement the new quality management system
The following stage is to implement the new QMS and track its development. Ensure that processes are carried out according to the updated documentation at all levels. If the new system necessitates new procedures, ensure that teams are properly educated about the new techniques. Creating a reporting system that allows managers and individual team members to submit concerns as they emerge is beneficial. As required, review and resolve these concerns.
3. Conduct an external audit
Schedule an audit with a competent organization once some time has elapsed and all problems have been resolved. A skilled auditor examines the new QMS at all levels, looking for possible issues and determining if it complies with ISO criteria. They may require access to formal documentation at this period in order to compare it to the actual work done.
4. Register the quality management system
If the firm passes inspection, it can apply for certification of its QMS. They assemble all of the documentation and submit it for examination to the certifying party. The firm receives certification once its documentation passes scrutiny. Standards, on the other hand, frequently shift throughout time. The QMS requires auditing every three years to retain accreditation. After each audit, the firm receives re-certification if it passes.
Should your software development company go for it?
The short answer is - definitely.
Implementing ISO quality management systems takes time, and having in mind the time invested, some companies believe that certification produces no returns. However, the ISO standard is intended to improve the business over time and you're more likely to experience long-term outcomes than short-term ones.
It is most certainly worth the work and time it takes to obtain ISO confirmation. Not only will your company be more efficient and quality-oriented, but your staff and customers will notice a big improvement, so, concentrate on your objective, make a strategy, enlist the help of a strong management system, and reap the rewards of the certification you deem most advantageous to your company.
Your take on the subject
They say knowledge has power only if you pass it on - we hope our blog post gave you valuable insight.
If you want to share your opinion or learn more about how ISO certification keeps our services and solutions exemplary, feel free to contact us. We'd love to hear what you have to say!