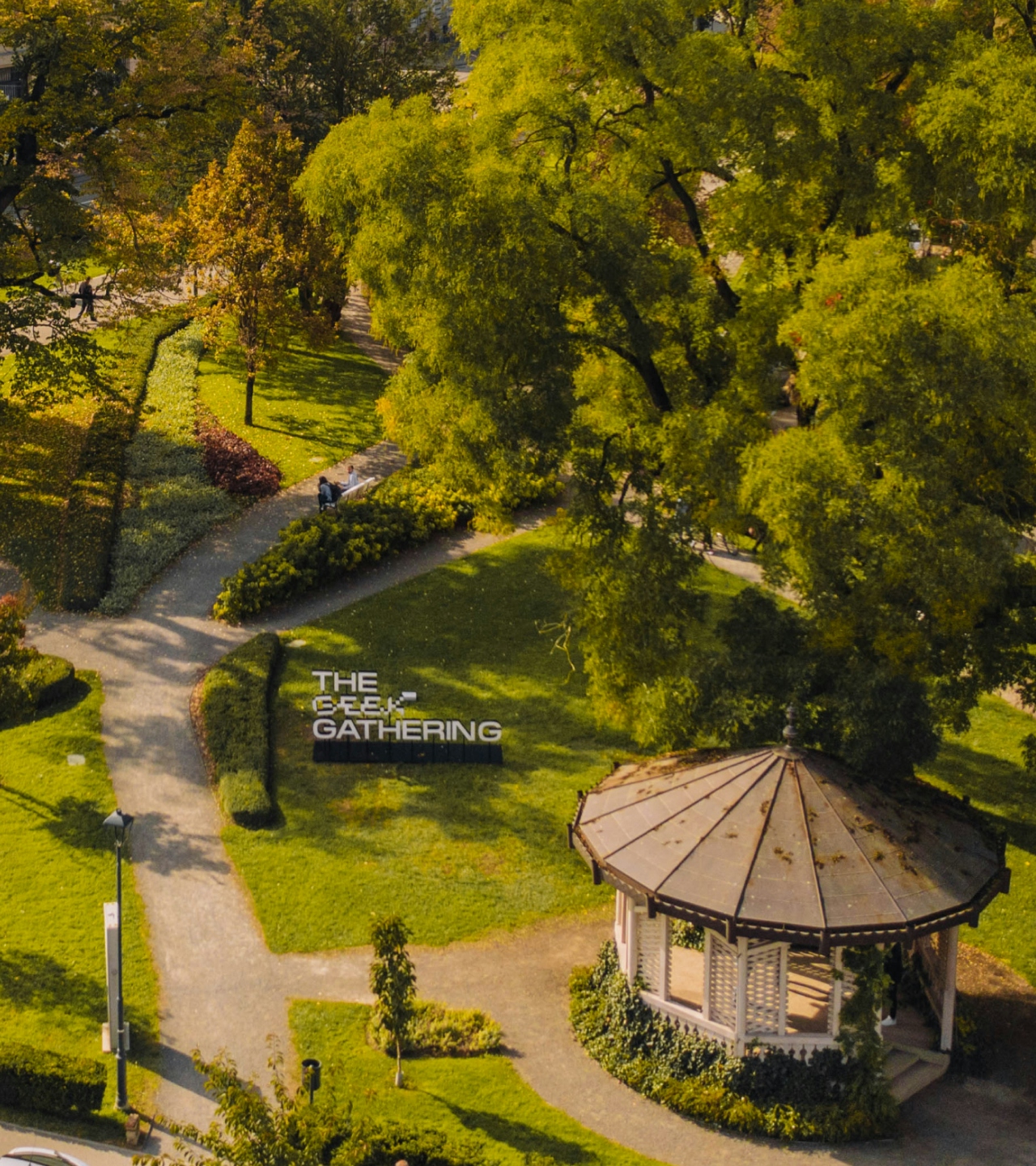 And then there was…The Geek Gathering
Lectures, workshops, discussions, and masterclasses from the digital world. However, there was more! Good crew, good talks, and great food with awesome music - the geeks gathered and chilled together.
Do you know that moment when you hear your favorite song, and you remember exactly where you were and what you were doing when you first heard it on the radio? Memories can come alive and become a "reality", at least apparently. Impressions are added and subtracted; you can relive all the moments. 
That is why we summarized our impressions after two weeks and remembered exactly where we were and what we did on October 6 and 7. 
Who says it's not possible to be in two places at once? We were actually at four different locations at the same time: Cinema Urania, City and University Library, Lumiere, Restaurant & Wine Bar, and Caffe Bar Trica.
We were all over the center of the beautiful Slavonian city of Osijek, very close to the river Drava, across the greenery and central Sakuntala Park, where our Association's logo,  The Geek Gathering, glowed in the dark. 
Time has flown by for us, and 10 years have passed since the last atypical conference like this one. And we must admit that the feeling of attending it was like meeting a good friend somewhere along the way, whom we invited for coffee and continued where we left off. 
The Geek Gathering is like a good companion of ours that has been patiently waiting for its moment to shine, which it did. As we identify as geeks and often visit both domestic and foreign conferences, we have noticed that most conferences lately focus on hosting sounding names rather than the quality of the content itself.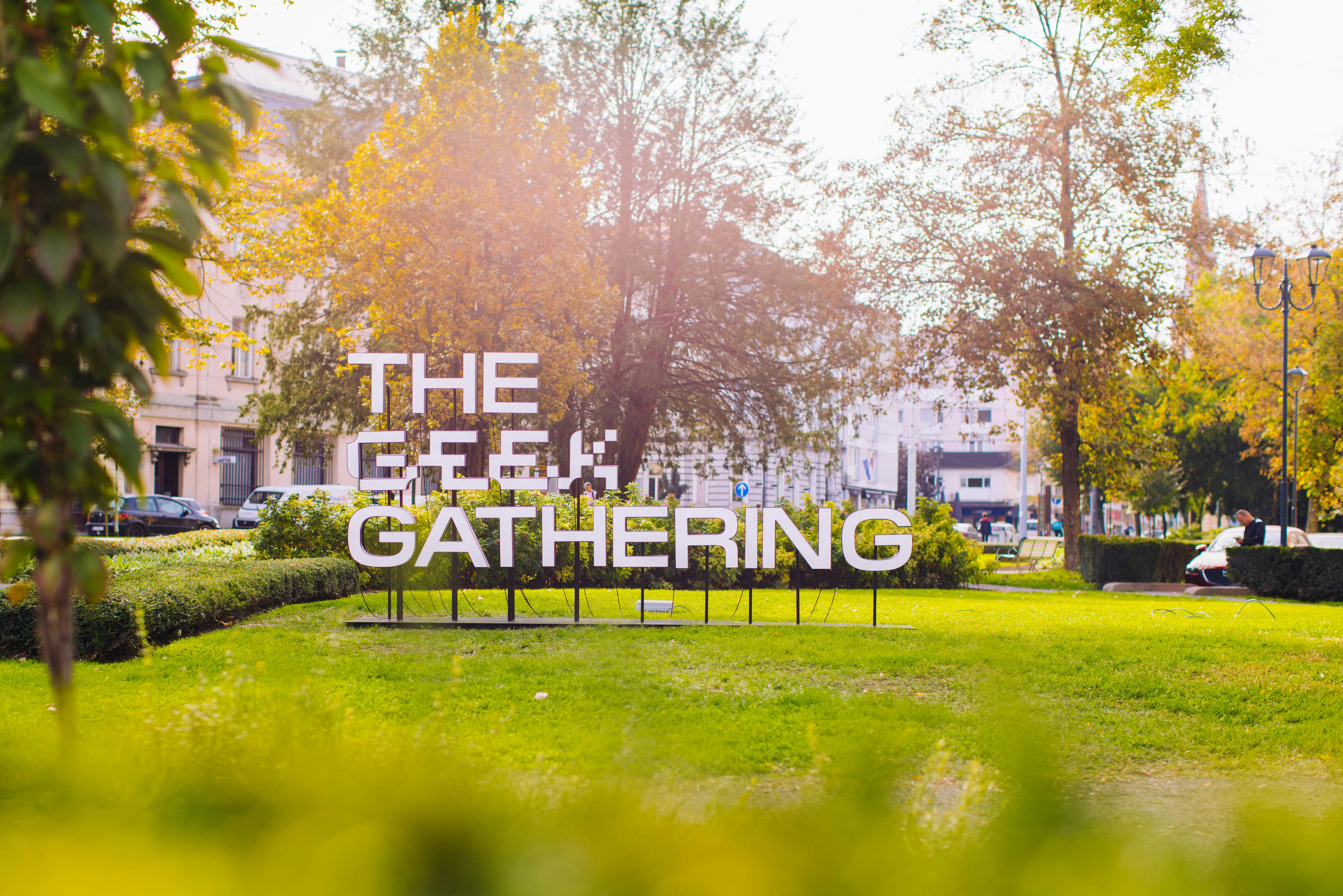 Our desire was to create an anti-conference that would allow speakers to lecture in time slots of adequate length, such as masterclasses and workshops. Geeks could deal with present topics as concretely as possible and with greater engagement of participants, and encourage the exchange of knowledge and more intense discussions on familiar topics and experiences between employees of different companies. 
TGG conference is more of a gathering than a conference because we wanted to organize a completely different atmosphere of active participation of all attendees and partners and present the community-driven character of the conference based on the exchange of knowledge between digital enthusiasts, in this case -  geeks.
Concrete geeks
Since we have taken matters into our own hands and don't prefer allowing so much time to pass between events, we have decided to found The Geek Gathering association to promote techno-optimism in our region.
Osijek's companies, Barrage and Prototyp are the founders of the Association and support its work and activities. 
Ivan Rimac, the founder of the Association and CIO of Barrage, drew attention to the idea of ​​founding The Geek Gathering association. The idea was for The Geek Gathering to be the pinnacle of the Association's annual events and activities. He believes this year's event was excellent, and he thanks everyone for the above-and-beyond engagement that marks just the beginning of the Association's work.
Meanwhile, Feđa Ivanšić, the general manager of the conference and CEO of Barrage, believes that The Geek Gathering should be seen as a gathering of IT professionals and experts and only after that as a formal conference. Such an unconventional approach enables an easier exchange of opinions and experiences, which was the general impression from the speakers and participants during the two days they spent in Osijek. 
The atmosphere was relaxed, and the lecturers were friendly and available for questions and socializing after the lecture. During the long preparation and organizational process, we managed to gather twenty-seven speakers from different areas of IT - such as software development, design, artificial intelligence, virtual reality, cyber security, etc. and about three hundred participants from Croatia and Europe. 
Sounds like too much for just two days? 
Maybe, but it wasn't.
Day 1 
The Geek Gathering is unlike any other conference, as we said at the beginning.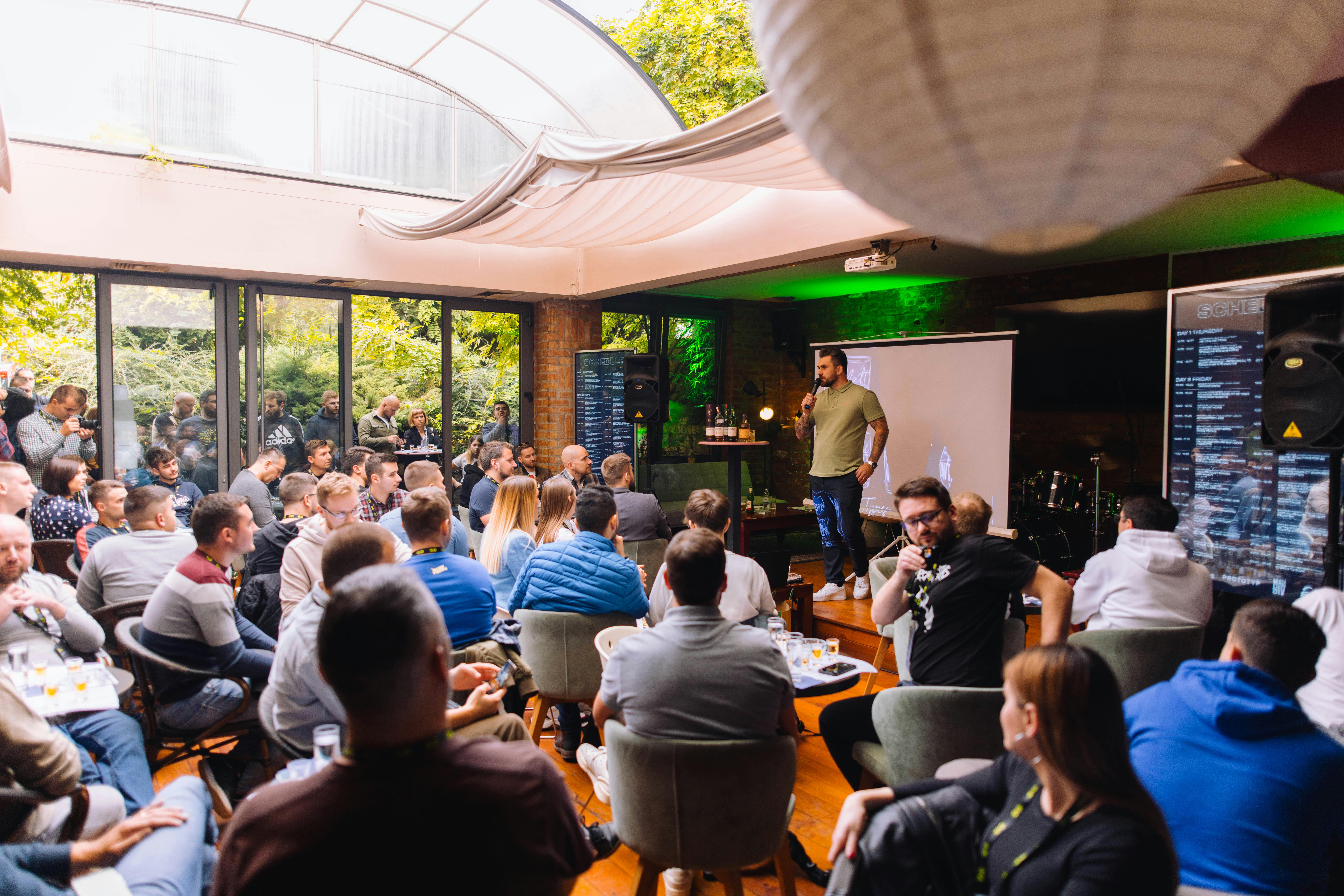 Nataša Kapov from the Lemax company opened "the show" with inspirational talks, explaining to all those present how Lemax grew from a small company to an enterprise in just 18 months, using her example and the example of her company. She proudly concluded that the secret of success lies in listening to the needs and wishes of the consumers. A recipe that could easily be replicated, right?
After Nataša, Mislav Malenica, the CEO of Mindsmiths, approached the stage. He talked about five key lessons that could have saved him twenty years of his life. His life story is fascinating and inspiring. What we would highlight from his lecture is his way of thinking outside the box and dedication to work. He is using his own example to inspire colleagues with whom he works on applying AI in everyday life.
In the end, we listened to a lecture by Toni Trivković from Split Tech City association. He told us how they started an association of great importance in Split and the surrounding area for the past few years and gathered many technology enthusiasts around them. They have taken a big step forward in creating a community that comes together to promote the IT scene. However, what amazed us was the comments from people who work with them. People said we don't have a community in our area that lives for what they do in Croatia apart from Split Tech City association.
The evening wore on with a jazz concert performed by the Munguru band following the inspirational speeches, providing all guests with an opportunity for socializing and entertainment.
Day 2 
The second official day was an "actual" conference day!
The registration process began early in the morning, and the first visitors gathered at 8 AM.
At 10 o'clock, when the doors opened, there was a crowd at the entrance and many people outside Cinema Urania. After the opening word of the host Marin Bilandžić, Vlatko Vlahek, one of the co-organizers of the association, greeted all the attendees.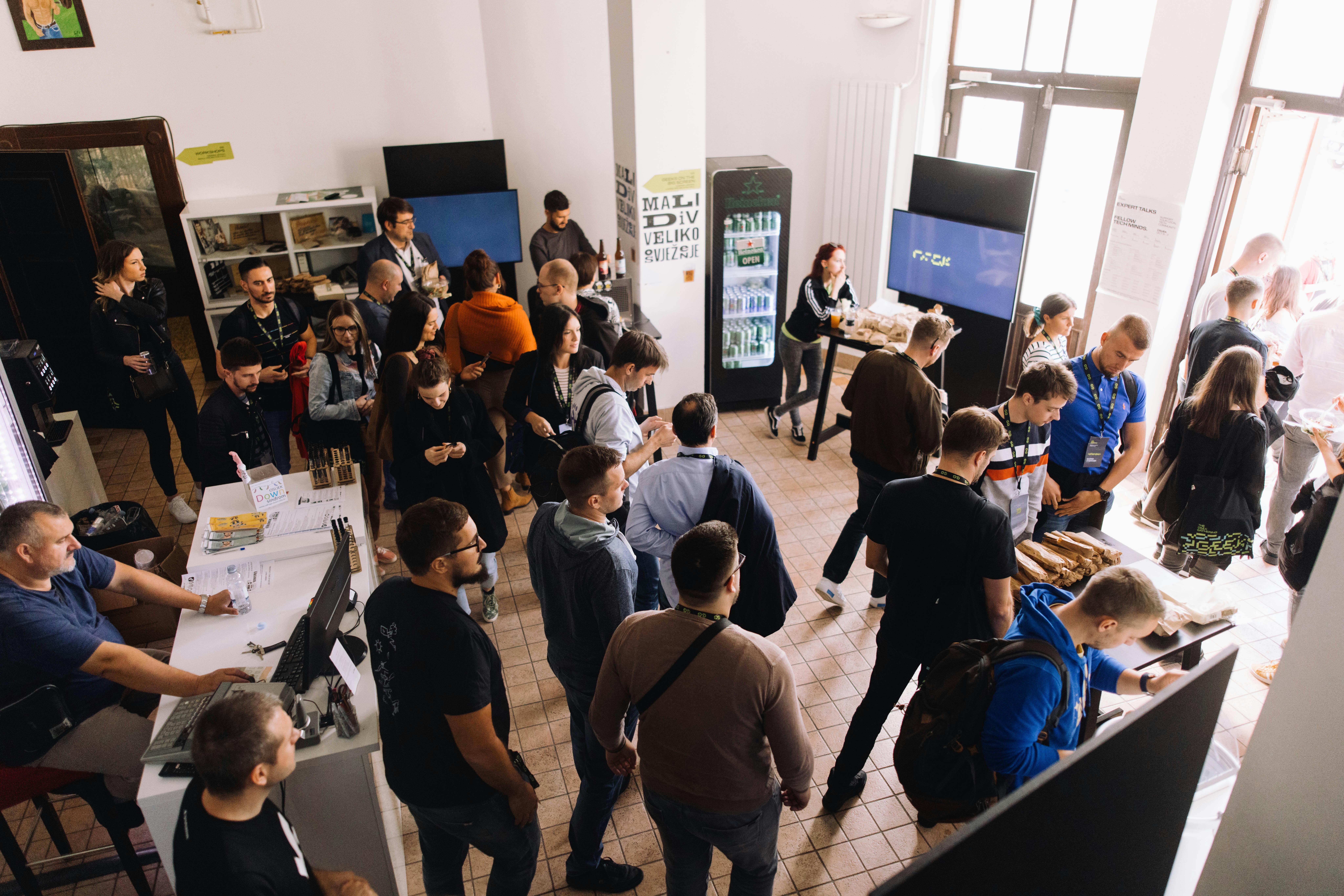 Following the welcome speech, there were five locations for the audience to be distributed.
At the Cinema Urania in the big projection hall, there were "Geeks on the big screen" lectures where six speakers shared their tips and tricks about design, development, and project management. 
There were great lectures for designers. First, Shuaiqi Sun explained how to maximize the flexibility of Figma components.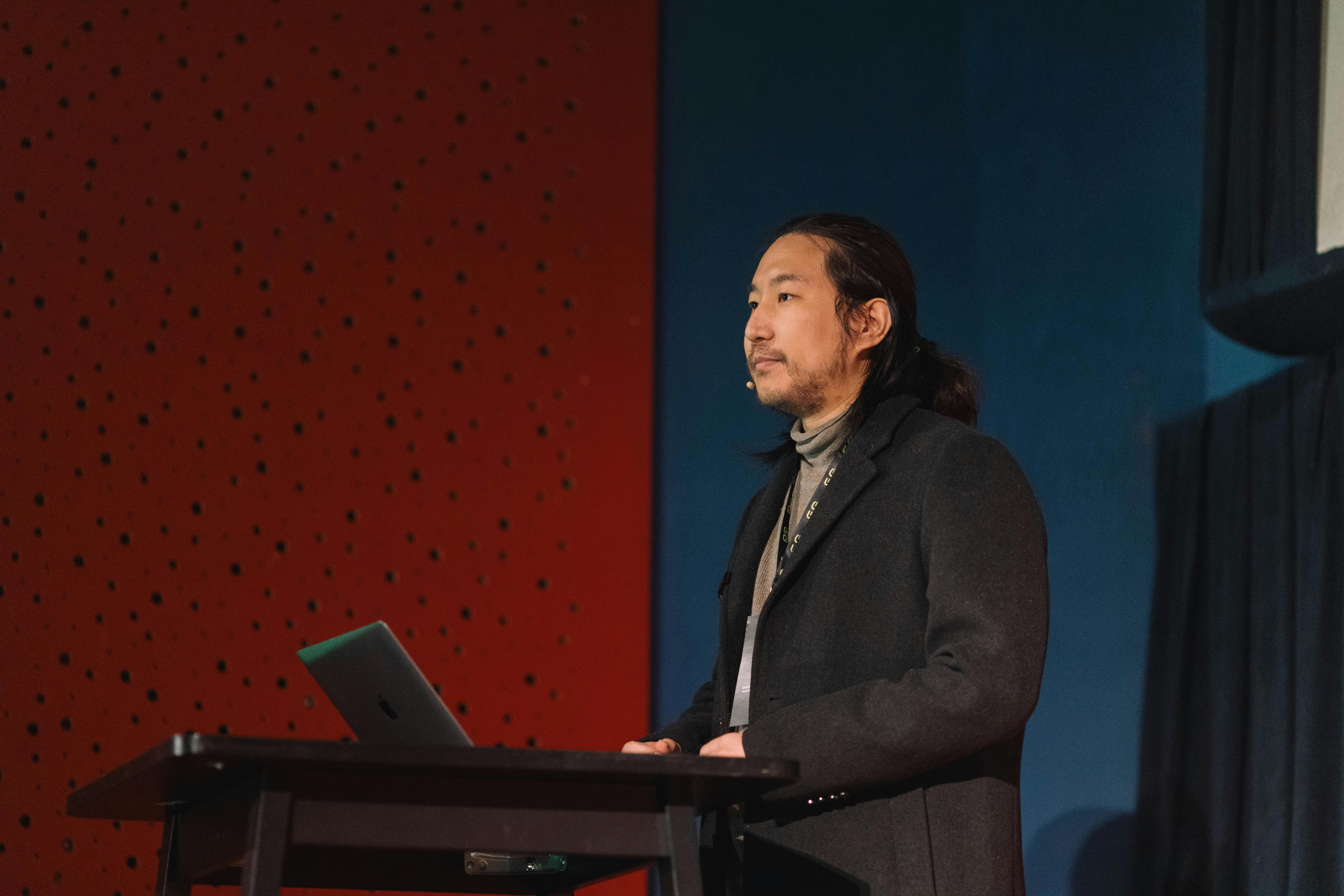 Onwards, Ivan Levak followed, talking about design and its path to becoming what it is now. And finally, designer Marko Jovanovac presented great examples of design evolution over time as part of his talk on design in culture.
In addition, there was something at this stage for developers as well. Wekoslav Stefanovski held a lecture entitled "Who are you? OIDC authentication - the good, the bad, and the ugly?" and he spoke about verifying the identity of each user who uses an application. 
Apart from Wekoslav, there was also Radovan Baćović, who spoke about the GitLab story of how they embraced DevOps and Open Source in the (officially) biggest all-remote company. Furthermore, he shared their Data Team's experience about how to move fast, stay focused on the success journey and orchestrate team members around the globe. 
Tomislav Car spoke about MVP and ensured that the fun couldn't move on without a story about product development. In the past, building an MVP was the holy grail of product development. "Do as little as possible, not a cent more." But, over the years, the bar for M in MVP has skyrocketed. His conclusion was: "MVP may not be dead, but it's not minimal anymore!"
And finally, related to this part - you can find all the lectures on our YouTube channel and watch them!
The workshops were held next door in a small projection hall. 
The workshops were limited in the number of people so that everyone present could be involved in problem-solving and other discussions.
The first workshop was reserved for all those who love small products that make life easier. Stanislav Mihić presented ideas and samples of how to make a DIY Smart Home. We believe everyone who attended his workshop made a few orders of smart gadgets immediately after they left the workshop. 
The next workshop's theme was also interesting. The Mindsmiths crew, Monika Pejić, and Livio Benčik helped visitors understand the topic they presented better and taught them how to create an AI-first APP. They opened the workshop with this sentence: "Welcome to the next digital revolution - let's start building!" We can agree with them because we believe that AI is the future. 
The third workshop's topic was completely different. Bojan Alikavazović introduced all participants to the topic of cyber security. After that, he held a more interesting workshop where he taught all the participants about Security awareness training techniques and skills, along with modern technologies for collecting and processing data, which are crucial for countering today's advanced cyber attacks.
And last but not least, Bogdan Doroslovac and Boris Magaš held an excellent workshop for product owners, "Empty chair". This was a very simple, interactive, and immersive workshop with a straightforward premise - try beating instructors in a game by "surviving" the challenge for 60 or more seconds. 
It was a fun and interactive workshop where participants learned about teams, their dynamics, some of the most common (anti-)patterns witnessed in teams, and experienced team coaching in practice.
Masterclasses 
Masterclasses were held at two locations - Lumiere, Restaurant & Wine Bar, and City and University Library in Osijek - GISKO. Both locations are close to the Cinema Urania, so we didn't have to walk a lot to get to them. 
Lumiere had a chummy and cozy atmosphere where the lecturers could quickly connect with the audience. 
There were five masterclasses, in this order: 
Juraj Malenica from Mindsmiths was the first to speak. Juraj talked about his years of experience working with AI, and he shared some critical insights into what it means to develop AI-first solutions today. 
He dug into common misconceptions about AI and shared some dos, don'ts, and lessons learned in building AI-first products.
After Juraj, there was Boris Magaš. He is a product owner with significant experience in that area. His masterclass was about all the challenges put before the person in such a crucial position within the Scrum team. 
The reactions to his lecture were more than just positive. Besides being very interesting, many visitors claimed the lecture was very useful.
In the abundance of male presenters, the female energy dash came from Katarina Barišić from Netgen. She dedicated her lecture to analyzing digital products that aim to detect pain points and offer recommendations to improve the user experience. 
In addition, she explained the UX Audit process in Netgen – which methods they use, how they chose the correct method, and how they deliver findings.
After the lunch break, Josip Stuhli from Sofascore came into the spotlight. He shared their story of how their infrastructure evolved to accommodate an increasing number of users - from on-premise to cloud and back down. How does one make an infrastructure handle more than a couple of users? Well, now we know how they managed it.
Sofascore has a great story behind them, and it was a pleasure to hear it. 
The last one to present in Lumiere was Vedran Marijanović from Trailer squad. Their topic was 3D printing, and during his talk, he introduced us to digital sculpting and 3D printing. 
The second part of the masterclasses was held in City and University Library, where we also had the opportunity to hear five lecturers who introduced us to various topics.
We were looking for a place for the API masterclass led by Vedran Cindrić from Treblle. He held a masterclass on building amazing, scalable, and, more importantly, lovable APIs in any language. The attendees left with enthusiasm and praise for the lecturer.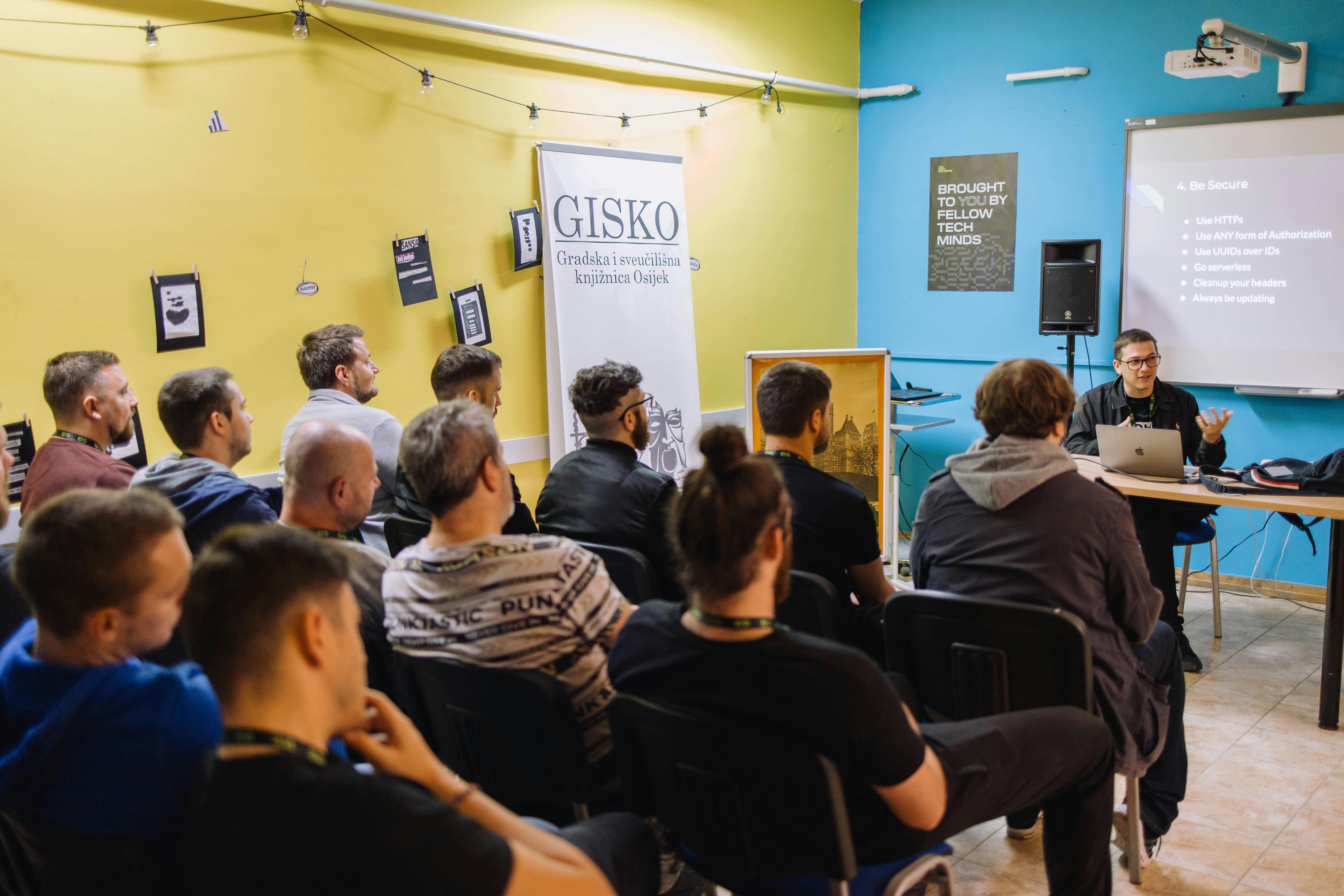 After him, the room was still full because Mislav Tomić held a great lecture, too, on the topic of the architecture of web 3.0 applications. 
We walked through the main concepts required to build more complex Web 3.0 applications, discussed options and technologies, and tried to find a middle ground between the fully-decentralized world and re-using well-tested web technologies to store off-chain data.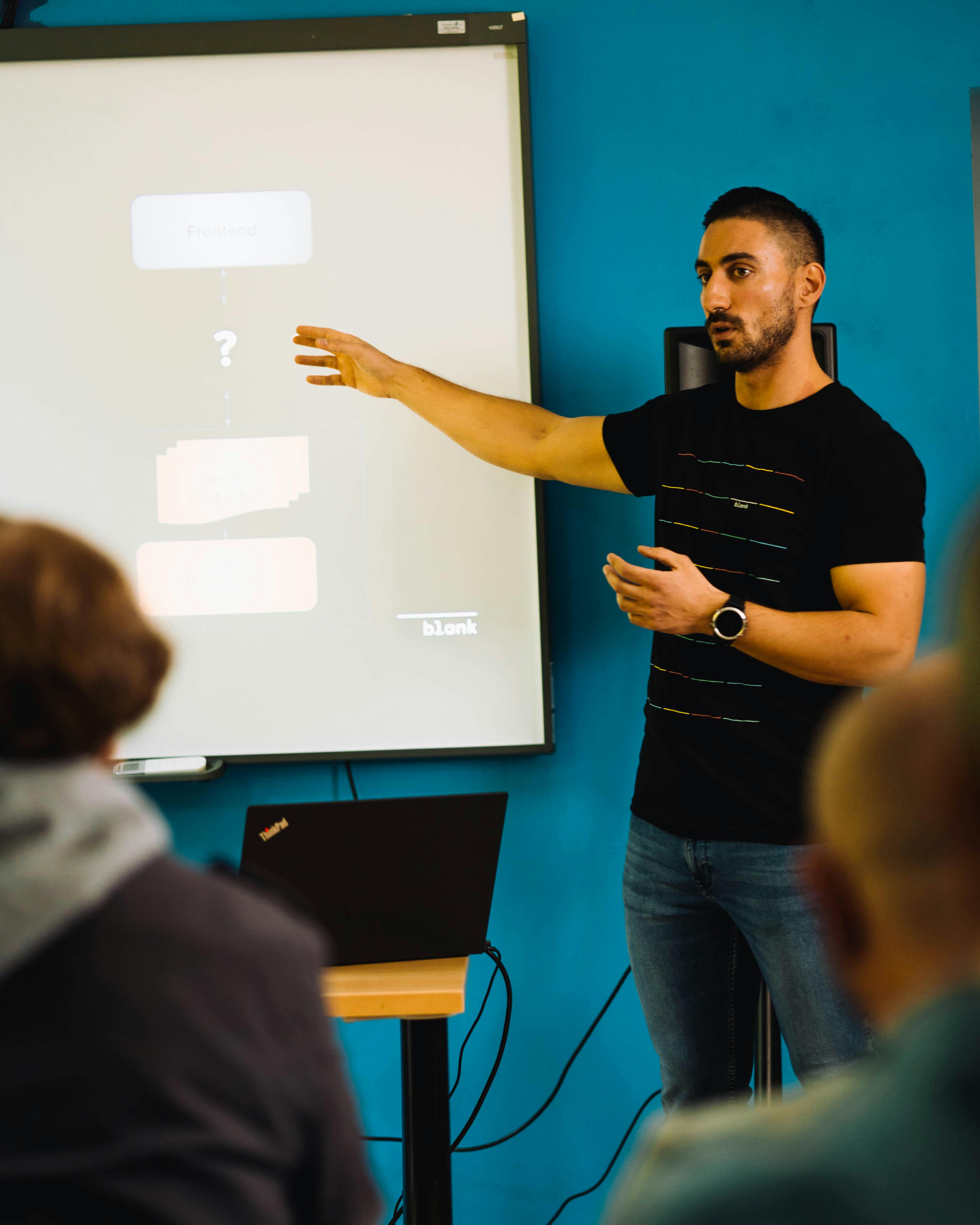 Before the lunch break, we had another lecturer from Sofascore. This time, it was Ivan Bešlić. 
He had a very interesting lecture title - "How to build a product (for dummies)?" Using the example of Sofascore, he showed all the accomplishments they've achieved, along with the problems they faced over the years. 
In the end, he concluded what was good and what was not, including their plans for the future.
We can only say that we think they are doing a great job!
Borna Matijanić from Netgen also held a great lecture. He spoke about the Symfony console component, how to define it, how to use it, why it's helpful, etc. We think this was very useful for every backend developer.
The last lecture in the library was held by Vedran Vučetić from Constructor i.o. The lecture was not about building a scalable product but creating a scalable engineering organization capable of building and managing a successful SaaS product. He narrated the five-year journey of a company from a DevOps perspective, starting from a few people to more than a hundred, with all the challenges and learnings along the way.
Meaningful discussions were held in the Trica Caffee Bar, where our speakers and attendees discussed cyber security in a relaxed conversation where Igor Vuk, Tonimir Kišasondi, and Bojan Alikavazović and the moderator Matej Lazarević from Barrage discussed cyber security trends. 
Thus, the participants could learn a lot or deepen their knowledge and ask questions about designing a security champion initiative from scratch and why it is a good thing, compare advantages and disadvantages, and ask about stepping stones. 
Attendees could also learn a lot about designing a bug bounty program - pros and cons, and ask about the blockers in the process.  
One of the topics of discussion was creating and conducting security awareness, how often one must maintain it, how much it costs, and all additional information about stepping stones. "Who is responsible for security at the workplace?" - asked the leaders of the panel discussion after they answered all the questions of our participants.
Since there is a lack of employees in the security field on the labor market, our lecturers also responded to questions about launching a career in cybersecurity. The eternal question is where to start, whether it will help one if they have a technical background or university, whether it is worth investing money in certification, whether they have to be a developer to deal with it, and similar questions. 
All those who have ever wondered if they have anything to hide received answers in the discussion "I have nothing to hide" argument about privacy.
The attendees got their answers and learned more from answers to questions such as: why the statement is terrible, how much we care about our privacy, to what level we want to provide our data, and when and where is the time to draw the line and say: "Enough! Stop sharing private data!"
We explored answers to the question: "What are your "20%"? The 80% - 20% rule says that 80% of the negative outcomes can be covered by investing only 20% of the effort."
What is included in one's 20% was a question for our participants. Our panelists also revealed strategies and tools to embed security early within the CI/CD pipeline. 
The following discussion was led by panel leaders Srđan Kovačević and Albert Gajšak on the topic of Fireside chat: "Bitching about hardware." All doubts regarding hardware were cleared: what happened during and after the pandemic, how difficult was it to raise capital for hardware, and did it become even more complex after the 2022 crash of the markets?
Hardware should also be done in Asia, according to them, or perhaps not? We had the founders of two Croatian startups talking about these topics (as well as everything else that came up in that uncensored chat) who have delivered awesome hardware products worldwide during a time when no "sane" person would have considered doing something like that.
Božidar Pavlović, Vedran Blagus, and Tomislav Car started the third discussion moderated by Srđan Kovačević on the topic "Early stage tech investments in Croatia - State of play 2022/2023." 
Ivan Rajković and Matija Fumić from SpectreXR introduced us to the virtual reality world with the topic "Virtual reality - The next frontier." In this session, they presented and demonstrated how they came up with the idea to create a low-code plugin to develop realistic physics-based hand interaction inside the Unity 3D game engine.
We all talked about hand-tracking technology and participated in demonstrating it live on the stage, streaming it in real-time from the VR headset. The participants had fun and spent some time in parallel and virtual reality.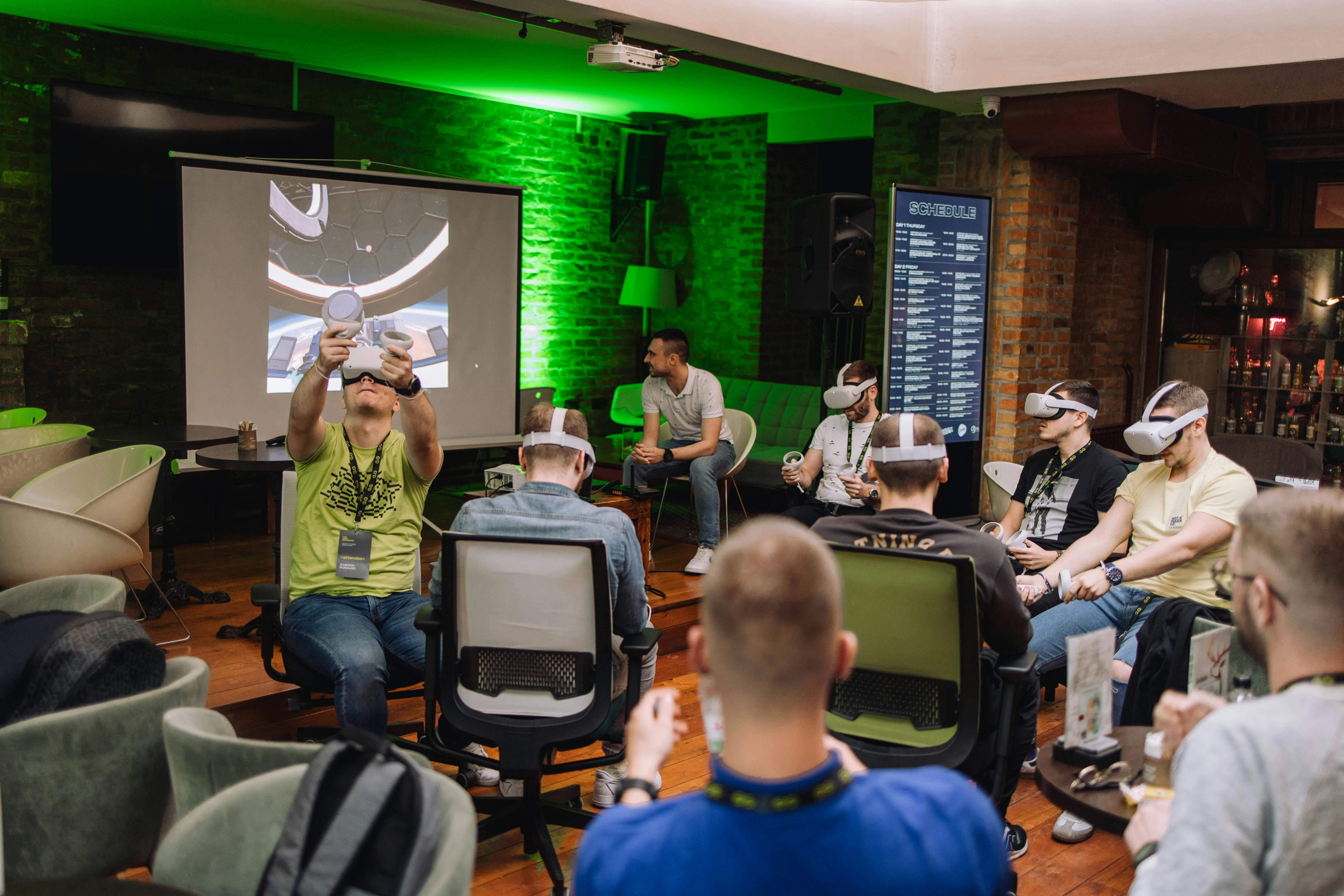 Party animals
Many of our lecturers, participants, and organizers proved to be real party animals on the packed dance floor, and the music of Electric Corn and DJ Back2Back kept the dance moves going until the late hours.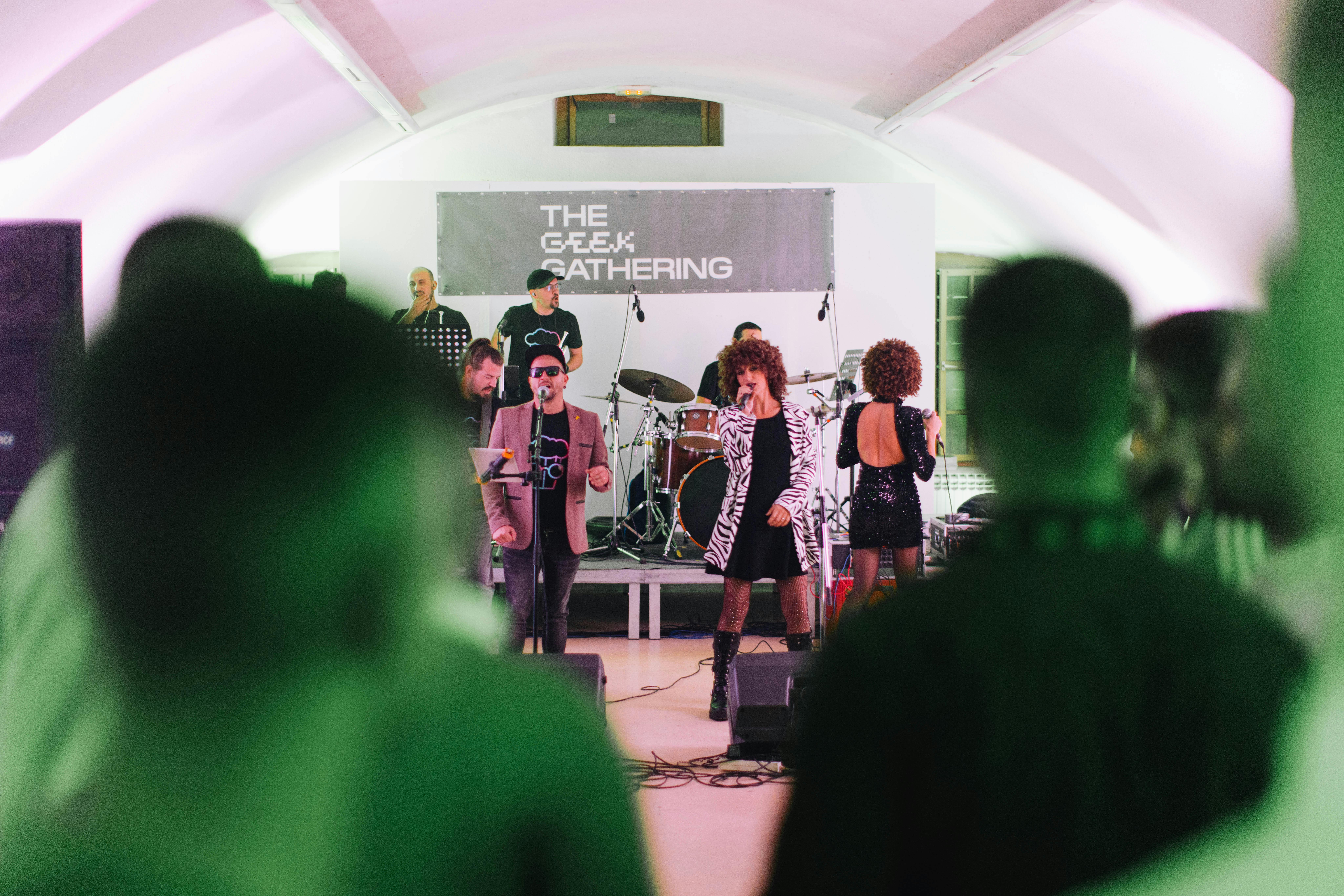 Fresh beginning
Yes, we know that the gathering was located in a smaller Croatian city, which may not promise much at first, but trust us that Osijek is an important place for the domestic economy, especially the IT industry. 
All that was missing was this kind of event connecting all the threads and highlighting Osijek even more as a significant and vital center of the Croatian IT world. 
The organization of The Geek Gathering event was not only bringing lecturers and attracting visitors. With their selfless work and contribution, there was a large machinery of people who brought this event to life, gave it a unique character, and paved the path to a brighter future.
And for that, we would like to thank everyone who participated in the organization, our volunteers, speakers, and all participants, with a big thank you to all sponsors. 
Before the lecture started, one of our lecturers reviewed the presentation as if before an exam. We were even more convinced that everything we did was worth it because he said he was attracted to such events and opportunities for classes, but he felt nervous, which could only mean he cared.
Both as lecturers and participants, our speakers were satisfied with the whole experience. They found the lectures interesting, with choices for everyone's preferences. They believe that everyone from the organization, including volunteers was approachable and communicative and expressed a desire to come next year as well. 
We promise you that we have heard your every word, advice, and constructive criticism and that we will do our best to make everything happen next year. 
Furthermore, we promise that we will be active on the social networks of The Geek Gathering association, Facebook, Instagram, LinkedIn, and Twitter, and will inform you about all the news and everything you need to know in time. 
We also invite you to chat with us on our Discord.
There is always room for progress and growth, as there is in our future organization of this event. 
Next year is the time when we will shine in full glory.
Hey, you! What do you think?
They say knowledge has power only if you pass it on - we hope our blog post gave you valuable insight.
If you want to share your opinion or learn more about our engagement in organizing The Geek Gathering, feel free to contact us. 
We'd love to hear what you have to say!