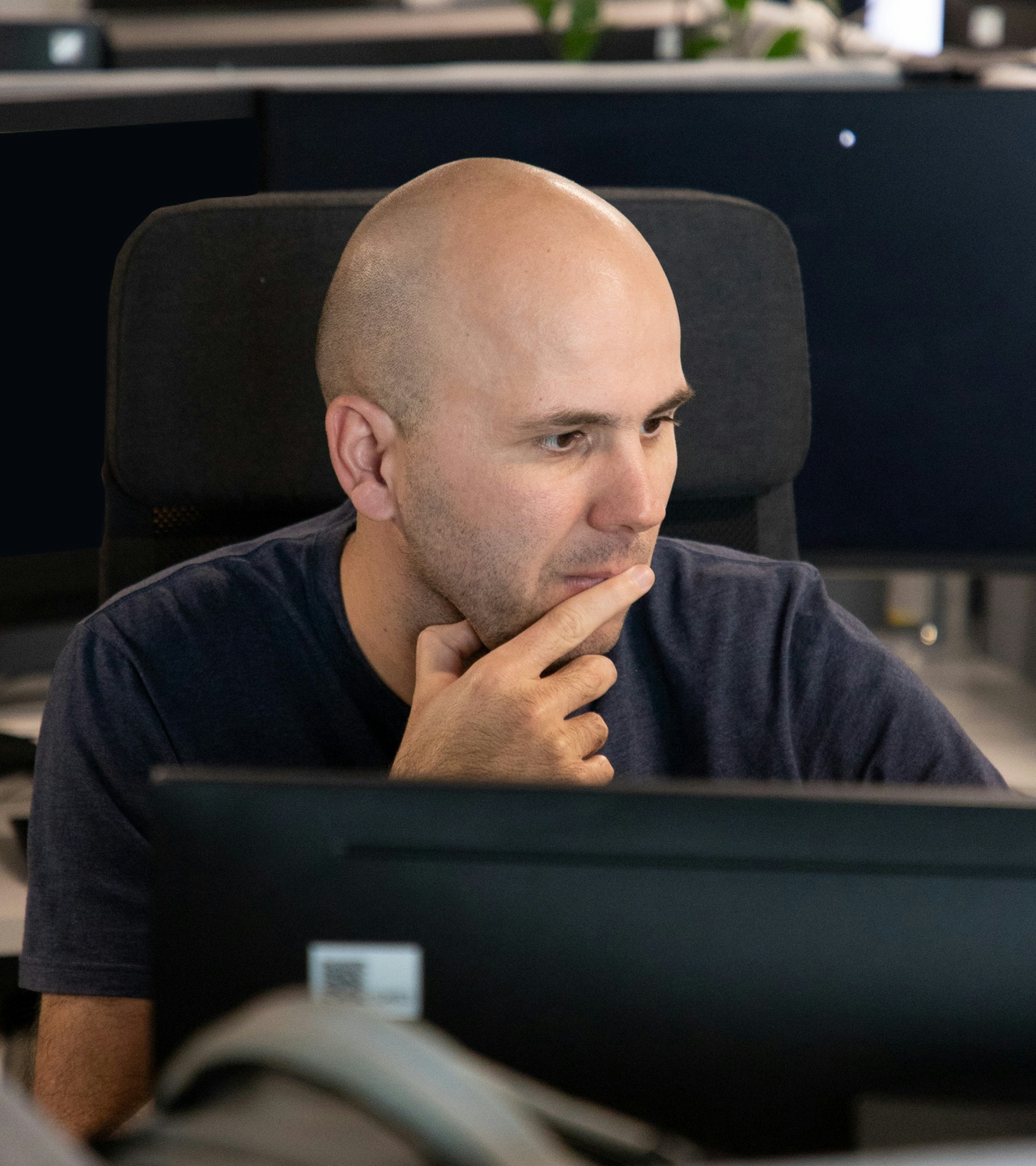 Outsourcing help desk: pros and cons
Some companies claim that an in-house help desk team is always better, while others swear by their outsourced team - to help you come to a decision, here's an overview of outsourcing's pros and cons.
There's probably no industry that hasn't been deeply impacted by technological development. To name a few, factories now manufacture products faster and their quality control is also predominantly in the "hands" of technology. Supermarkets use self-service checkout machines which directly impacts customer shopping experience, while in most companies, documents only exist in the digital version.
On the one hand, we have the movers and shakers - consumers, customers, or clients whose experience while acquiring and using your product or service can make or break a business's reputation. 
On the other hand, we have the companies and employees who need tools to ensure that the reviews customers leave would speak only of excellence. And besides that, they also need means to organize themselves, communicate efficiently both internally and externally and monitor everything that's going on. 
To cut a long story short, each company requires help and support to function properly and have both satisfied customers and employees. 
However, what we want to learn are the pros and cons of an outsourced team so that when faced with a decision between an in-house help desk team or an outsourced one, you would be able to make an informed decision. But first things first, let's define the terms that we mentioned before we go into more details.
Defining help desk
There is no unique definition of help desk: it can mean different things, depending on your business needs and goals, but it's most often associated with companies from the IT industry. 
Perhaps the most straightforward categorization is internal and external. 
The internal help desk teams focus on the employees and the software used; they provide support to employees so they can be more efficient. The idea is to have all information, procedures, and anything they might need in one place.
The external help desk focuses on the customers and it's a tool that helps streamline communication in order to make sure they get responses to their questions or have their problems resolved as soon as possible. We will focus a bit more on the external type in this article. 
Both these types go hand in hand with different software solutions which make all that possible. Here are some of the features that such software can have:
Omni-channel support - so you can be there for your customers - Barrage and your team via social media inboxes, email, chat, blog comments and any other communication medium.


Ticket management - this management system can accumulate and organize customers' inquiries and also internal company tasks and issues to be resolved.


System for tracking issues - again, this goes together with the previous feature and is very useful in terms of improving the overall business.


Automation - these software solutions usually have a high level of automation so that the employees' time can be better utilized.


Analytics - this feature is especially important for the external help desk as it lets you measure the entire customer experience.


Integration - as we all rely on technology for pretty much everything that we do, it's become imperative that these different pieces of software have to be integrated with one another.
Defining outsourcing
The term "outsourcing" has been with us for some 30 years - it started in the 1990s and it is a business practice in which a company hires another company (usually a team) to do something for which they don't have an in-house team for or they don't want the in-house team to do.
The original impulse behind it was to decrease expenses and as with any new trend, it attracted controversy. Nowadays, the reasons behind outsourcing a portion of work can be versatile and differ from industry to industry.
Let's take car manufacturers as an example - Ford outsourced Sync, the multimedia system in their vehicles, to Microsoft  (Sync and Sync 2) and BlackBerry Limited (Sync 3); Volkswagen picked TomTom as a map supplier for passenger cars. An honorable mention goes to a Croatian company Lipik glas d.o.o. that doesn't produce software but its glass products are used by Bentley, Lamborghini, Ferrari, and Peugeot.
Some of these names have been around for a hundred years and from the technical point of view, they are simply magicians. But since modern times demand sophisticated software, it doesn't come as a surprise that they often choose to outsource software development. When it comes to the help desk, the industry that probably outsources it the most is the IT industry. 
And now, let's dive into the pros and cons of help desk outsourcing.
Pros of help desk outsourcing
1. Saving resources 
The initial idea behind outsourcing hasn't changed since its early beginnings. Outsourcing the help desk can save up not only company money but also time, a vital resource in modern times. 
For example, the company providing you the help desk is in charge of the whole hiring, onboarding, and training processes of your help desk team, unless you wish for it to be otherwise and to have more say in it, of course. 
Fewer people working in your office space means you don't need ample space and it also means you'll be spending less on provisions (such as coffee, sugar, milk, tea, toilet paper, pens, staplers, etc.). 
2. Team's flexibility 
The increase of the revenue usually goes hand in hand with the growth of the customer base. This not only means that you will need more workforce to be able to help them with every question and request, but also that a certain level of support quality is now expected.
Although every company is capable of hiring more people, the hiring process can take quite some time. In contrast, companies specializing in outsourcing usually have people on standby and well-established hiring mechanisms, which means they can find new people for your team much more efficiently.
Also, a part of their service is usually anticipating such situations and notifying you in advance that your team's capacity needs to be increased so that you can both react on time.
3. Continuous education 
As technology and customer demands change, so must the companies. If acquiring new software means that the business can function more efficiently, then you need to invest in new tools to keep up with the competition or be ahead of them.
The same goes for the education of the employees - the company which provides you your team takes care of not just their initial education but also provides additional training so that the quality of service they can provide always remains top-notch.
So what you can expect from the company that provides you a help desk team is that both the technology and the people are up to date with the latest happenings.
Cons of help desk outsourcing
1. Company culture
When speaking of a help desk team, customer satisfaction should be their focal point. This means that, besides being efficient in handling issues and professional when communicating, the team members also have to exhibit empathy, patience and a high level of tolerance.
In addition to that, although they stem from another company, they are also an extended hand of your company, which means their behavior and activities should be aligned with your company's goals, values, and practices. 
And when someone hasn't gone through your onboarding process, spent much time with the rest of the employees, or felt the "energy" your company shares, chances are that some members of that external team won't "get" your company culture.
2. Quality control 
For an "external" team, company culture is not the only element they need to adopt from your company. They also have to be familiar with all your procedures and follow them to the letter to ensure a seamless process.
Having issues that are not adequately labeled, tagged or assigned can seem like a trivial mistake but this can cause a massive problem and delay the resolution. This can, in return, result in bad reviews, your customers going to the competition and in general, a stain on your reputation.
Although your outsourced help desk team may not be sitting in your company or have a daily contract with you, they still need to be aware of how other departments function and respect the prescribed procedures.
3. General attitude 
Imagine you have a help desk team of patient and respectful communicators who follow the procedure word-for-word - sounds like a dream come true, doesn't it? Well, not quite so and this is why - since they are not working for you directly, besides excellently mimicking your company attitude, their hearts are just not in it.
They might be doing their job wonderfully but as people on the frontline and in direct contact with customers, they are often the ones who should notice the most when it comes to potential improvements and most frequent complaints.
And if they don't go that one step beyond what's in the contract, you may never know or learn only when it's too late what you could have done to meet the needs of your customers better.
Final pieces of advice
If you want to give help desk outsourcing a go, but you are reluctant due to the listed cons, there are always ways to work out the kinks in case you think this might be a fitting solution for your company. Here are a few pieces of advice on how you can get the best of outsourcing. 
Communication
Transparent communication is key to a harmonious relationship. When you look to partner up with a company, be sure to talk to them honestly about your company culture and emphasize just how important it is for the help desk team to embrace it.
Insist on regular meetings where you would exchange observations and ideas and give your feedback about how things are going. Don't hesitate to set up a meeting even outside of the regular ones if you want to address something because it's always better to tackle problems at the very beginning.
Monitoring system
As for the problem of following the procedure, the solution for that is quite simple: introduce a monitoring system. Go over everything you set up so far and use this opportunity to trim some unnecessary processes, improve those that need tweaking and introduce new ones if necessary.
Once you know the ins and outs, you can create a system of supervising, or, depending on your priorities, you can ask for the outsourced team to give you regular reports on those points you want to pay special attention to. The software the team is using might also have a monitoring system integrated so you can also use that as means of making sure everything goes by the book. 
Involvement 
Although one can't expect even from the in-house team members to truly feel the way the company "breathes", still, it's easier to get people to see things from your perspective when they actually get to know you and the rest of the employees. It's the people who create and sustain the atmosphere.
This is why you should consider having occasional meetings with the whole team, not just team leaders and also, to organize team-building events so they can all bond. It's useful, for example, for the help desk team to meet the team that resolves the issues because if they know each other in person, that will probably be more considerate towards each other, leave more detailed notes, ensure everything is tagged and appropriately assigned simply to help a colleague in need.
Wrapping up
Some companies prefer to have everything done strictly in-house because they believe that this is how they don't dilute their product or service quality and perceive it as having more control over everything. From their perspective, an in-house help desk team, regardless of whether it focuses on employees or customers, needs to be a set of company people who know its culture, share the values and are constantly under the watchful eye of company managers.
Then we have others who are willing to fish for talents they may not be able to find in their city or state and who are OK with taking calculated risks. For them, an outsourced help desk team means a decrease in expenses and time saved, although some members of the team may not be one with the company.
Be that as it may, the ultimate choice of whether to go with an outsourced team or not is, of course, up to you and it requires for you to sit and think long and hard about your company's needs, and what type of a team can meet those needs best.  
Your take on the subject
They say knowledge has power only if you pass it on - we hope our blog post gave you valuable insight.
If you want to share your opinion or learn more about help desk outsourcing, feel free to contact us. We'd love to hear what you have to say!